Achieve the best possible surface finish as fast as possible!
The surface finish of a component affects both its appearance and its functionality. Certain types of components need to have a surface texture finish, such as for their gripping function, and that is not the topic we talk about today. We will focus on the surface finish in terms of surface quality and accuracy, which have a detrimental impact on a component's service life.

The surface finish of a component affects not only its appearance but also its functioning life and quality. A smoother surface finish has the following advantages:
less tendency to form cracks with fatigue.
lower friction with better lubricity.
better corrosion resistance with fewer surface defects.
higher load-carrying capacity.
To achieve a smoother surface finish in turning operations, we need to increase the nose radius of the cutting insert and reduce the feed rate, both of which have a tendency to increase vibrations in machining. Reducing the feed rate will excite more vibration because the consequent feed position of the insert has a higher overlapping ratio. We characterize the performance of the tool based on what is the best surface finish achievable at a certain cutting speed and at different L/D ratios. To be able to reach what you need in terms of accuracy and surface finish, without compromising productivity by changing cutting parameters, is key to a successful operation.
To identify the difference between different tools we machined 4340-alloyed steel with HRC 28-30, at a constant cutting speed of 200 m/min and a depth of cut at 0.5 mm. We very soon detected that the surface finish achieved by using the MAQ tool was superior to all other tested tools.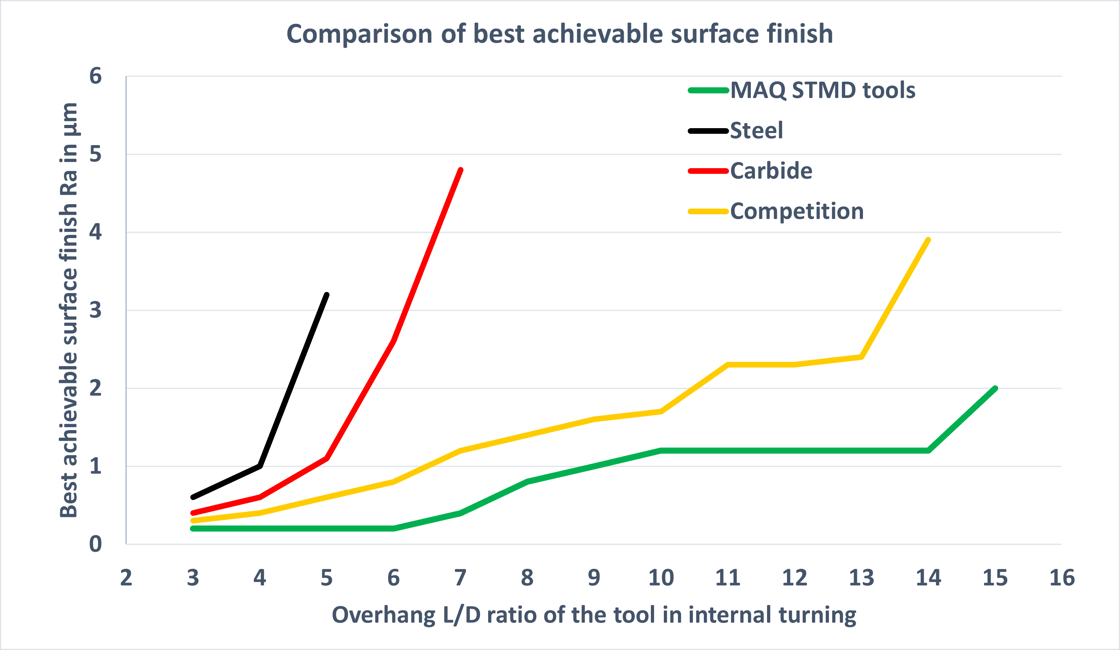 With MAQ tools, you are always one step closer to your target and there is no need to struggle to get the workpiece ready for its next operation, such as plating or other surface coatings.

Are you challenged with surface finish in your machining operation? Are you interested in achieving an even better surface finish? Would you like to improve your productivity? Do it the MAQ way!
Our mission is to bring new technology to the workshops to make things better, faster, and easier. "Simplify Machine" in other words!